Spruce Mountain Ranch History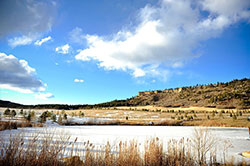 In 1871 the land now recognized as Spruce Mountain Ranch was once a section of terrain on the "Ben Lomand Ranch, this property consisted of thousands of acres. Besides being a sucessful dairy operation, the land was cultivated for oats, millet and hay. The "Ben Lomond Ranch" later in 1885 branded as the "Famous Daniels Ranch" was jointly owned by Judge Hiram P. Bennett (a member of the Colorado State Senate in 1876), his eldest son Hiram P. Bennett Jr., his brother Joseph F. Bennett, as well as Alvin D. Daniels, and Daniel C. Oakes (one of the first sawmill owners in Douglas County). These men were friends and pioneer builders of Denver and Douglas County.
In 1907 Harold and Arthur Higginson purchased 2,500 acres of the "Ben Lomand Ranch". There they raised 125 head of Hereford cattle and farmed wheat and oats. Later Arthur sold his share of the property to Harold and moved to the mountains. In 1908 Harold and wife Essie May built a home that was still standing when Tom and Lois Ames purchased the property in 1999.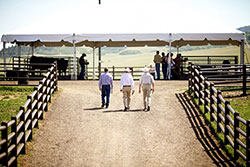 In 1950 Harold sold the ranch to his son Russell and wife Amelia Pearl. Tragically, while working the ranch Russell lost his arm in a hay baler. Russell was quite resourceful however, and continued to farm after his accident by re-engineering his farm equipment. In 1956 Russell succeeded in a run for County Commissioner and served for 16 years.
Since then, the Higginson Ranch has changed hands numerous times. In March 1999, Tom and Lois Ames purchased the property. They allocated 100 acres to a housing development "Spruce Mountain Estates". The remaining acreage was creatively and uniquely renovated by Tom and Lois. Their ultimate goals are to sustain a purebred Angus seed stock operation, as well as create a distinct landscape and resort-like atmosphere for family, guests, and potential customers to enjoy.